If your employees need timely information updates to get their jobs done, put Ving in your arsenal of communication tools for business.
When employees need immediate access to data, Humtown Products uses Ving.
A family-owned business in Ohio that serves the foundry industry, Humtown Products improved both the quality of their products and the happiness of their customers at the same time.
How did they do it?
Let's start at the beginning of this customer success story.
The Problem: Traditional Document Storage Wasn't Working
Humtown was creating and storing important documents the traditional way, using paper. And the traditional way isn't "wrong," but it is often inefficient and costly.
In the past, when Humtown's production team needed details about products, the company used hard copies of process information. These hard copies were stored in an office or on a computer network and were not readily available to anybody on the floor in the production team.
Why was this problematic? Humtown's production teams have a critical need for immediate data.
The Solution: A Communication Tool That Offers Instant Access to Data
Humtown now uses Ving to connect process sheets, packaging sheets, quality alerts, videos, and any additional information that's created for the actual product. This info is then connected to the floor, giving the production team instant access to it.
The Results: Better Products That Create Happier Customers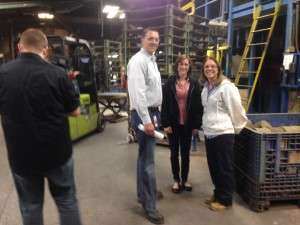 Ving has greatly improved Humtown's communication processes. Having instant access to documentation ensures higher quality products, and higher quality products create happy customers. The production team is very excited to have the detailed product information in real-time.
"We want to deliver a good quality product on time every time," says Sales Manager Brandon Lamoncha, "and Ving is helping us do that."
Want to see how Ving can help you improve communication immediately? Click the button to request a free online demonstration.