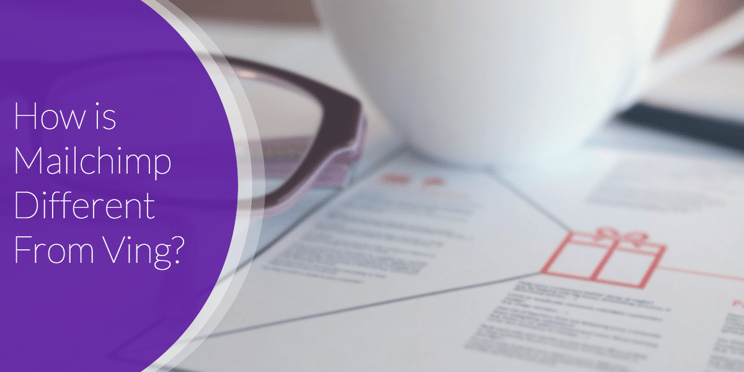 Automated marketing is defined by Hubspot to be the mass tasks that are repetitive and probably even goal-oriented that marketers do on a daily basis. Often these tasks can be overwhelming if done manually. But, like everything, there is a time and a place for automated marketing tools. Mailchimp is one of these automated marketing tools.
Often we get asked "what is the difference between Mailchimp and Ving?" For those not using Ving, Ving is an information sharing and tracking tool. Ving allows you to package any file type and share it anywhere to anyone. Sounds a little like email right? Yes… but no. Let's look at the 3 reasons on how these tools are very different.
Small Sends
Crafting an email and you have all these attachments and maybe a video that is going out to a group of 5 - 10 people. There is no need to create an entire automated marketing workflow, and attachments in an email will look like it came right from the 90's. Create a trackable digital packet that has built in design elements saving you time and allowing you to achieve maximum engagement with every piece of content you share.
Personalized Sharing
Automated marketing allows for some easy personalization. You can simply input a first name tag, last name tag, company tags, and more. Our culture is used to these easy personalizations. When you are communicating with people (prospects, customers, students, or employees) you should be as personable as possible. Sharing a video that is created specifically for them while reusing the other content is where the Ving software shines.
Easy to Create and Style
The third way these types of tools are different are their ease of use. It can take some coding and positioning to get an email exactly right. The email needs to be clean for all email providers and devices. A Ving does all the designing for you. Simply upload the files you want to share and then pick a layout and a color — Ving does the rest for you. Your package is instantly ready for any device and any email provider.
These are just three ways that Ving is different than tools like Mailchimp. With Ving analytics you know more than just opens and clicks. You know the engagement score on each component and where at each person is with your information. Talk to a Ving team member today to learn about locking a ving, deactivating a ving, and the many other ways that Ving can be used with or when to use it instead of your automated marketing system, click here.