Many companies (93% of them) say that they close fewer deals than forecast. With a tool like Ving sales professionals can close more deals. But how do you actually use Ving to increase your sales engagement? Recently we wrote a blog, "9 Ways To Improve Sales Engagement So You Can Close More Deals" and today we are going to show you how to put some of those tips to use with Ving!
First before anything else you need a Ving account. Click here to sign up for your FREE Ving account today.
Tip #1 Connect on LinkedIn
LinkedIn is a great network so you and your prospect can read about one another. You may even find success in messaging them directly on LinkedIn over regular email.
Once you are connected on Linkedin you can begin to package the perfect Ving for prospects. You can include an explainer video, product information, and a survey. Once your Ving is created use our short URL feature to post your Ving to Linkedin.

Tip #2 Communicate Regularly Through Any Form Of Communication
It is important to stay present in your prospects lives. So if that is connecting and tweeting and following on social sites — do it! If that is shooting a regular email or phone call — do that!
With Ving you can invite someone via email to view your Ving or share a short URL with them view social media sites, texts, or any other location that you can post a short URL giving you the ability to communicate with everyone regularly. The best part, all of your analytics come back to one place saving you time and allowing you to avoid the analytics scavenger hunt.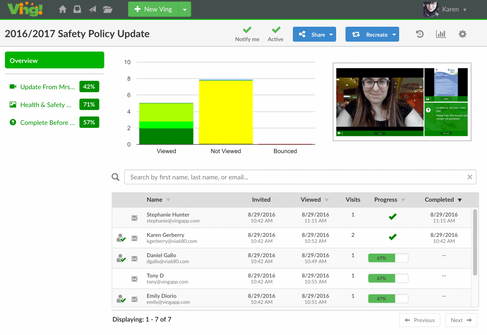 Tip #3 Every Communication Needs A Purpose
Make sure that you are checking in with a real purpose. We all get enough emails so make yours worth it.
With Ving you can see who has and has not interacted with your information. Knowing what someone has not interacted with gives you the purpose you need to interact more frequently, warranting every communication.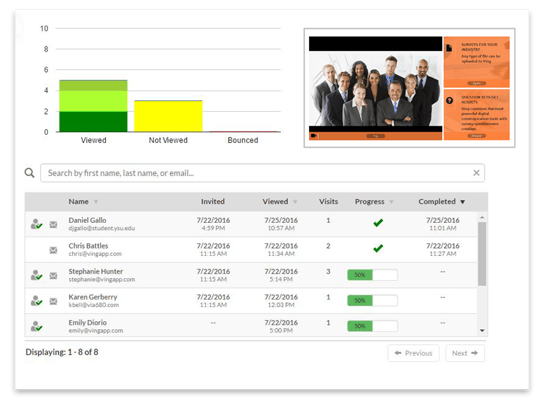 Tip #4 Follow Them on Twitter
Twitter is a good balance of professional and personal. Follow your prospects so you can get a better understanding of their everyday problems.
Like with tip #1 you can take that same URL and post it to your Twitter audience allowing you to leverage all your hard work, easily.
Over time you will learn what content converts more of your prospects to a close won and quicker. With that you can also share Vings with your entire team. Once you have the perfect Ving make sure to share it with your new sales reps so your entire team can succeed!