The first-floor space is becoming a hot commodity in Youngstown Ohio. The new tech that is being built on the 4th floor of the Youngstown Business Incubator has made its way into several Mahoning Valley Schools.
Youngstown Ohio has been the spotlight in national news publishings in the last month or so. First Youngstown was rated one of the worst cities for small business employees by Forbes. A few weeks following The New York Times reported a complete 180 change from that view. Just a few days later local news, WKBN, reported that the first-floor space is actually running out in Youngstown.
The city is growing in all of the best ways.
The industries, businesses, and other organizations that are downtown are affecting more than just downtown, as well. Here at Ving! we have made it our goal to truly change how the city of Youngstown Ohio (and the world for that matter) communicates, especially in education.
Constantly new tech's being released and teachers are expected to keep up. Ving has just the solution by creating one tool with many functions.
Youngstown State University
Ving is the tool Director of Student Activities, Erin Driscoll, used to build hype about this event downtown — and it worked! Ving was used for more than just marketing. It was a voting tool that was easily accessible from everyone's phones — cool right! Read about the Ving YSU used Ving for Federal Frenzy.
Youngstown State University has another great use for Ving. Student Body President Ashley Orr, uses Ving to connect with her board and Student Government Association (SGA) Executive's. Check out her Ving here. Ashley's personal video message allows her to connect with her board even on summer break!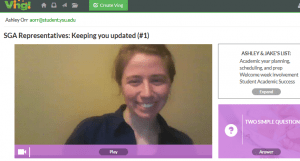 Orr said, "Listen, you guys are awesome!" Thank you Ashley, we completely agree (haha!).
Boardman City Schools
Supervisor of Instructional Technology and Information Management at Boardman Local Schools, Todd Smith uses Ving in a whole different way. He needed to send his teachers information, documents, and files but wasn't sure of the best way.
"I was trying to figure out a method of delivery that wouldn't overburden people," said Smith.
Teachers have less time and more responsibility. Smith keeps his Vings to just a few components. This assures that his teachers only have to spend about 5 - 7 minutes per Ving. His Vings cover topics like Google Docs, Gmail, Google Apps, and much more.
Ving allows teachers to interact and learn what they need to know. The best part is they can connect with the Ving when they have time in their schedules, and it lets Smith know when a teacher has completed reviewing what he's sent to them.
Smith said our latest release, "was a total 360… it is exactly what [I]and the teachers want." Like most new tools Smith gives one piece of advice to others who are getting started with Ving, "just start sending."
"There isn't a better tool out there for checking feedback specifically which parts of a message are being read," said Smith. Ving is a tool Boardman Local Schools is excited to see grow, and they are not the only educators who see Ving's value in and out of the classroom.
South Range Local Schools
Here is a sample of a Ving Jeff Hammond, a teacher at South Range Local Schools, sent out to encourage the district to recycle.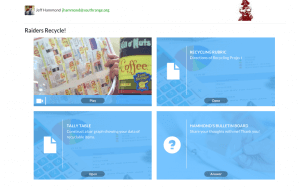 Hammond said Ving is the perfect tool to connect with his students. "I have a lot of fun using Ving! with my students. I use Ving! to "hook" my students into an activity, which is usually an extension of my instruction from class. I try to be creative and funny with my video so the students will enjoy it."
Hammond says it is his go to tool for parents too, "When I assign a project in class, I use Ving! to reach out to the parents to inform them of the instructions and provide the documents needed. I have received feedback from parents that they appreciate the information and it helps them stay informed with what is happening in school."
The parents and students alike have been very responsive and excited about this new tech — and it is only getting better with every day.
Now it is your turn to sign up for your own Ving account below. The city of Youngstown is growing and so is this new tech. Whether you're a business on one of the last first-floor spaces or on the 4th floor like us, Ving is the tool you didn't know you needed. There really is one tool that does it all.