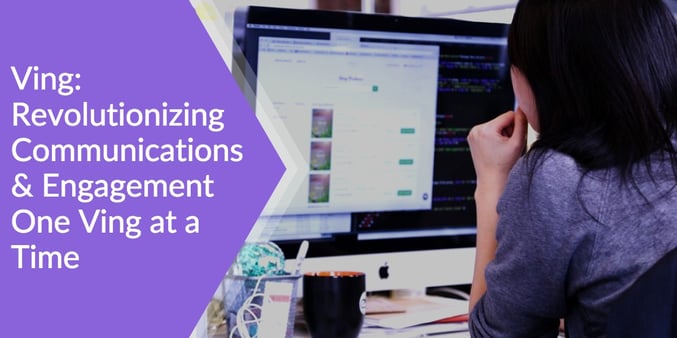 Across organizations and industries, individuals are living in a world where popular and efficient means for sharing information – email, messaging and social channels – have often become a scattered and chaotic mess of untrackable actions, often resulting in disengagement and stymied productivity. Enter Ving.
For anyone not familiar with our platform Ving!, and even for those who are, our cloud-based solution is all about improving communications, engagement, information sharing and responsiveness, and perhaps most importantly, the ability to track and measure what works and what doesn't. With Ving, individual employees, managers and leaders can achieve their personal best – whether it's a sales executive's goal to close more sales, an HR manager's need to strengthen compliance with organizational policies, a teacher's desire to increase interaction with students, or a department head's plan to communicate major strategy shifts quickly and effectively, to name just a few examples. All of these and more have been achieved through the use of Ving.
Simply put – Ving is a communications engagement platform. What does this mean? It means we strive to put efficiency and accountability back into the way people share information, whether it be with documents, images, video, audio, or some combination thereof. Ving enables people to create engaging and trackable customized communications to increase their effectiveness and productivity, while helping them better prepare and inform the people with whom they work and engage on a daily basis.
Email was once a business communications standard. But the method of sending emails with lengthy messages and a multitude of attached files is just not effective any longer. This is not to say that email is no longer relevant; it's still a popular way for people to communicate when short messages that aren't critical in nature and can be quickly distributed. However, when information is a must-see for one or a multitude of people and/or additional materials are needed to convey and support ideas Ving's a new approach that gives the creator great control over how the information is packaged and shared, as well as the ability to track and measure how the content is absorbed, has become necessary. This is where Ving comes in. And because no other integrated platform exists that offers the full line of capabilities and features that Ving does, we're setting out to revolutionize communications engagement and information sharing – one Ving at a time.
Our primary mission is to change the dynamics and effectiveness of the way people and organizations communicate, by enhancing their existing communications platforms of choice (e.g. messaging and email) with a new approach that's intelligent, highly secure, and optimized for mobile. Using the analytics in our dashboard to learn what is and is not working in communications means that there can be significant changes in results inside and outside an organization: increases in video views, survey responses, and other measurable actions. We are always reaching out to a variety of subsets of our account holders in 2015 we paid close attention to a group of 500 and have found that amongst those that are regular users of Ving it has already proven to increase productivity and effectiveness. This group alone has had over 15,000 people interact with their Vings. Early customer feedback indicates that Ving offers the richest form of communication available, second only to face-to-face contact. Of course we learn from all types of users and use cases. Our account holders truly drive our feature innovation. If we find a user group who loves the concept of Ving but feels it is missing a key feature we move quickly to include it in a future product development sprint.
If you're interested in taking a look at Ving to see how it might improve your own results, we offer a free 30-day trial, which you can access here.
Ving is an SaaS application nothing to install no need for special equipment. People you send Vings to do not need an account to view it. After you sign up for Ving account you'll begin to receive daily tutorials via email to help you maximize performance and results – and if you decide to continue on with your subscription beyond the first month, we offer a few different options to fit different individual and organizational needs and budgets. Click below to get started today.