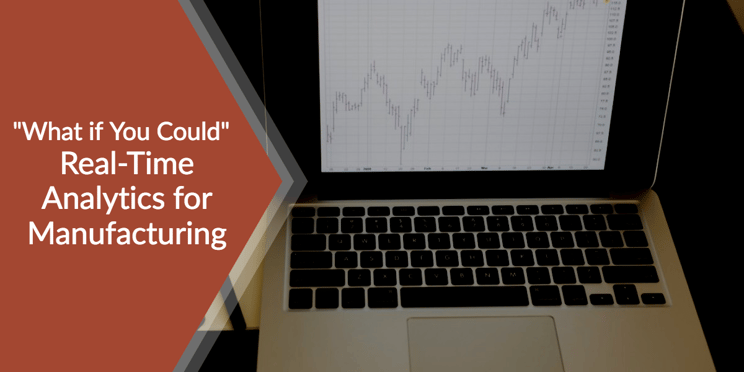 In today's globally competitive marketplace, real-time analytics are the lifeblood for any business, and in particular, for the manufacturing industry. From data-driven insights, manufacturers have the capability to identify and resolve issues before they become a problem. Yet, with the rise of social networks and mobile devices, manufacturers continue to face a number of challenges associated with delivering the most relevant reporting dashboards in order to make decision-making predicated upon data, analytics, and insights.
In our present economy, one that revolves around "social, mobile and local," technologies and analytics reporting across a number of processes can give manufacturers a true competitive advantage. How so? Just imagine – what if you could react - in real-time - to supply chain issues, improve customer-supplier relationships based on known and anticipated engagement levels, eliminate waste by doing it right the first time, and even put an end to on the job injuries through training programs and content that resonate with all employees?
At present, analytics is transforming the landscape by enabling manufacturers to interact with their customers and employees with new, customized digital platforms, and providing them with deeper understanding of their customers and employees' behaviors on multiple touch points. And for those companies that want to increase their market share and remain relevant, real-time analytics need to be a core practice.
While we might not be there quite yet, there are innovative solutions such as Ving, which are enabling manufacturers to preserve profits, build consensus to drive collaboration, and reduce employee injury by delivering timely training. With solutions like Ving, manufacturing companies can send real-time alerts to their teams to address issues before they become a problem, seamlessly share critical spec information packets to ensure product quality, and package, distribute and track employee training to reduce – and even eliminate – injury.
Looking ahead, leading analytics solutions will transform manufacturing in the following key areas:
Customized Content:
Did my employees take the latest safety quiz on our machinery? Why is there an increase in on the job injuries? Are our training systems outdated? From notifying the individual employee that he or she is incorrectly lifting a box to informing human resources that employees are not engaged with safety training materials, digital-based solutions can provide manufacturers with unprecedented insights and predictive analytics into their employees' preferences, behaviors and habits so that they are better able to provide customized content.
Anticipatory Systems:
With the power of real-time analytics, manufacturers can anticipate and predict what their customers will buy and when, enabling them to improve their supply chain process with automated product sourcing. As a result, manufacturers, and their customers, can improve the bottom line with reduced operational inefficiencies and improved profits.
Customer Service:
A happy or unhappy customer's sentiment can be increased and broadcasted online. Through analytics collected on social media channels, emails, phone calls and even live chat features, this type of real-time analytics on engagement levels – and customer satisfaction – provide assessments on positive or negative, enabling manufacturers to quickly and effectively resolve issues and improve the customer relationship.
And when we get there, the "what if you could" in manufacturing means that we, as human beings, can realize which problems need to be solved now and how.
For more information on Ving, visit www.vingapp.com.