We shared some of our favorite quizzes to you last July and we want to give you a huge THANK YOU for continuing to take and enjoy them. Regularly people are visiting this blog and taking a quiz or two. The real question we are looking to solve today is how do you use these quizzes in Ving?!
Wonder no longer... we are about to show you how combining these quizzes and our tool will be a dynamic duo for you and your employees. It can be hard to stay focused at work for employees. Try to optimize those times with a fun quiz for them and use the results as an employee assessment of their personality or needs — talk about easy employee assessment tools.
The Office Quiz
The Office Quiz is a great play off the TV show The Office. Sit back and allow your employees (and you) to see which office character they are most like.
The Color Quiz
The Color Quiz is your basic personality test. It tells you a little bit more about how you handle situations, interact with other people, and much more. Color personality test are a great way to see who you are most like in your office.
The Leadership Quiz
The Leadership Quiz are you a natural leader? You can find out which of your employees may be good for management positions down the road.
The Holiday Quiz
With The Holiday Quiz you can learn who in your office are the ones who will want to help decorate the tree and who would rather be home.
Are You Logical?
The Are You Logical Quiz establishes who in your office is more logical vs emotional. Nether are bad — it is a left brain, right brain kind of thing. You need a balance in your office to be most successful! Figuring out who is more left or right brain will help with future projects and grouping for collaborative efforts.
Your Decade Quiz
This kind of quiz is one of my favorites! The Decade Quiz tells you which decade you were actually born in. We all have our real ages, and then we also have our "soul age." Find out how old each of your employees souls really are.
Are You Balanced
It is important to live a balanced life. The Are You Balanced Quiz will help you establish who on your team need still needs some help balancing their life and who on your team is spot on!
Your Audiobook Quiz
It is important to read (or listen). Your Audiobook Quiz is a fun quiz that will let you know which audiobook you should download before your next road trip.
Quizzes And Ving!
According to Accountemps certain days of the week are more or less productive than the others. Check out their slide share here.
Now that we know Thursday and Friday are the least productive days let's use those days to give your employees a quiz assessment boost! Here is a Ving we put together to encourage our employees to take a quick break between tasks.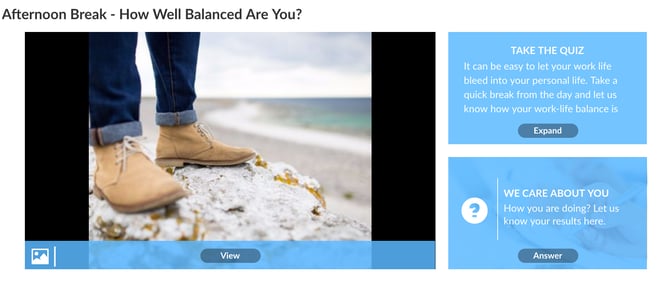 Would you like help creating these Vings to use with your employees today? GREAT! We are here to help you. Click here to sign up for your FREE account and add a comment below and a Ving rep will help you populate your account with a bunch of Vings that will help you get your employees engaged today.