Since the start of the Covid-19 pandemic, working formats have changed. After two years of lockdowns, many companies' workplaces moved online.
Switching to the remote model was perceived differently by people. Some felt frustrated due to the incapacity to handle stress and the altered routine. Others felt freedom and managed to improve their productivity with the possibility of arranging their schedule by themselves.
The existence of two minds inspired employees to introduce a hybrid workplace model, allowing people to choose whether to work from home or the office and manage working hours by themselves. In this article, we've tried to find out how the hybrid workplace affects staff efficiency in the company and whether it's here to stay.
What is a Hybrid Workplace?
A work environment that combines elements of in-office and remote work is known as a hybrid workplace model. In a typical hybrid workplace, some or all employees can pick their schedules and locations, alternating between working from home and the office.
Some of the company's personnel may work remotely or from home, while a part of the workforce may routinely visit one or more offices.
What to Take into Account When Switching to a Hybrid Workplace Model?
Ensure constant communication within the team. Working with distributed teams necessitates regular communication. Online team-building activities enhance their bonds even if team members have never met.

Provide the necessary resources and technologies. Assist your distributed teams in understanding the tasks and maintaining the security of their devices and accounts. Consider solutions that will allow you to minimize offline interaction. For example, you would benefit from employing an electronic signature application, allowing employees to sign all the documents without coming to the office or sending them by post.

Give employees access to solutions that equalize their capabilities. You should provide the staff with the tools for establishing communication of the highest quality, regardless of whether they work remotely or in the office. You can guarantee that your teams are effective no matter where they work by offering solutions that enable team collaboration, foster a distraction-free atmosphere, and have the same capabilities as in-office technologies.
Let's say you have a team of Magento experts scattered around the globe. You should put your best foot forward to arrange proper communication between front-end and back-end specialists and ensure the work is done on time. In this case, introducing task-management apps, a suitable messenger for team communication, or a CRM system would be helpful.
How Does Hybrid Workplace Affect Staff Efficiency?
Before the pandemic, managers were skeptical of hybrid work. They thought if workers could choose working hours, they would opt to work less. It turns out the truth is the opposite. In a Microsoft study on how the pandemic affected business performance throughout Europe, 82% of executives claimed that their organizations were at least as productive as they were before the Covid-19 outbreak.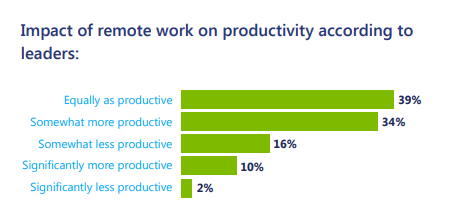 The screenshot was taken on the official Microsoft whitepaper page.
With a hybrid workplace, employees can better utilize their time. For instance, they might decide not to commute during peak periods. They can fully concentrate on their job without the commotion and distractions of a regular office setting. Moreover, it's possible to work the hours that make one feel more productive, whether late at night or early in the morning.

The same report indicates that it's still essential for most employees to work from the office sometimes: they would like to spend around one-third (31%) of their time outside the typical workplace. Interacting with coworkers offline was one of the top advantages of working, highlighting the need to develop strong team relationships.
Issues to Consider
A hybrid work model might cause problems for the entire business if it isn't effectively adopted and maintained:
Inequality between in-office and remote employees. Face-to-face interaction is undoubtedly more effective than a digital one. If remote employees aren't given the same opportunity to engage as their in-office colleagues, they may feel alienated.

Lack of team-building activities. Before the pandemic, businesses held team-building activities to foster team spirit. But when employees cannot come in person, it could be challenging to create that cohesion.

Increased dependency on technology. As teams get more divided, they increasingly depend on technology to communicate. If staff members don't get adequate instruction on utilizing these tools, it might significantly obstruct good communication. Develop a guide on using video-conference technologies, remote access apps, and other tools your company employs working online.
Final Word
A hybrid workplace approach may contribute to fostering innovation and yielding positive results. First, this relatively new working model benefits organizations, increasing their productivity. Secondly, it allows employees to schedule their workdays rather than cramming in after-hours activities at home. And finally, with smaller office spaces, companies use less water, energy, and other supplies, reducing their ecological footprint.
To adopt this trend in your company, ensure strong policies, clear rules of engagement, and an equitable organizational framework.
---
About the Author
Alex Husar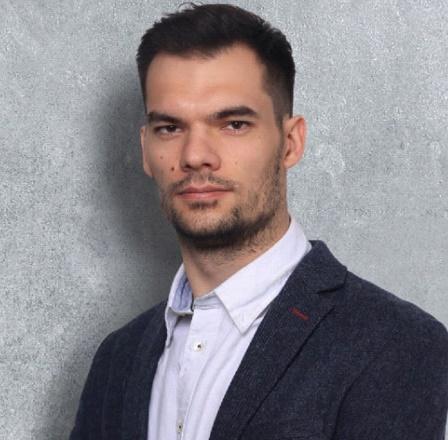 Alex Husar, chief technology officer at Onilab. For over 8 years he's been working on Magento migration and development projects as well as building progressive web apps (PWAs). Alex is an expert in full-stack development who shares his expertise and in-depth knowledge of modern technologies and Computer Software Engineering.