Your employee engagement ideas need to start before your employees walk into the office.
When you think about onboarding you think of paperwork and formality. On an employee's first day there are some basic requirements…yes... they need to meet the staff, tour the office, etc. But, the onboarding process should be, and can be, so much more than that.
Update your onboarding to fit the future workforce!
A study by Silkroad tells us that 39% of onboarding is done so new employees become more productive — quicker. Employee engagement ranks at 31%, the second in line for why companies do onboarding.
Here at Ving we think that employee engagement should rank first. When your employees are engaged they will become more productive quicker. It is important to have a welcome kit as one of your first employee engagement ideas for onboarding new employees. You may be wondering "what should I put in the kit?" I am glad you asked! Here is a list of what you should include in your employee onboarding basket.
Notebooks
Notebooks may be old school, but some of us still use them. They are a staple in your welcome kit. As a portion of your employee engagement ideas have your veteran employees write a few tips and tricks for your new employees. Remind them to stay positive when leaving tips for the office. This will spice up the old school notebooks.
Pens & Pencils
Of course to accompany your notebooks are pens and pencils this will help for any note taking, phone calls, brainstorming, etc. Whatever your new employees use the notebooks for the pens and pencils are a must.
If you are looking for employee engagement ideas for your pens and pencils reach out to your creative employees — the writers in the bunch. They will have their favorites pens and pencils for sure. Ask them to pick out a few pens and pencils to contribute to the welcome kit. This will make it more personal for your new employees than just a bag of regular BIC pens.
Water Bottle
Health is key to productivity. Make sure to include a water bottle in your onboarding kit. Like the pens and pencils ask your employees to each bring in a few of their favorite, small office supplies — fill the water bottle with them. The perfect touch!
Sticky Notes
Stickies are a must have in every office. Make sure to write encouraging statements on the top of every sticky note pack. This will make sure your new employee is ready to start their day with a positive attitude.
Snacks
Provide snacks! There is no deeper meaning to snacks except they are delicious and always a crowd winner!
Pretzels
Candy Bars
Kcups
Cookies
Chips
By including these employee engagement ideas into your welcome kit your new and old employees are sure to be more engaged. It normally can take a few weeks, even a few months, for some new employees to begin to mix with current employees. Fast forward this process so that your new employees feel at home. You will see an increase in productivity all around.
Another great way to make your employees feel integrated is with multi-media elements like video! With a tool likeVing you can share video clips and other inviting images with your new hires.
Have your employees record a welcome video of themselves. They can say just a few simple likes, dislikes, hobbies — just to introduce themselves. We think this is a fun and effective way to engage new employees. The Ving I made has a welcome video and image. A little personal touch goes a long way.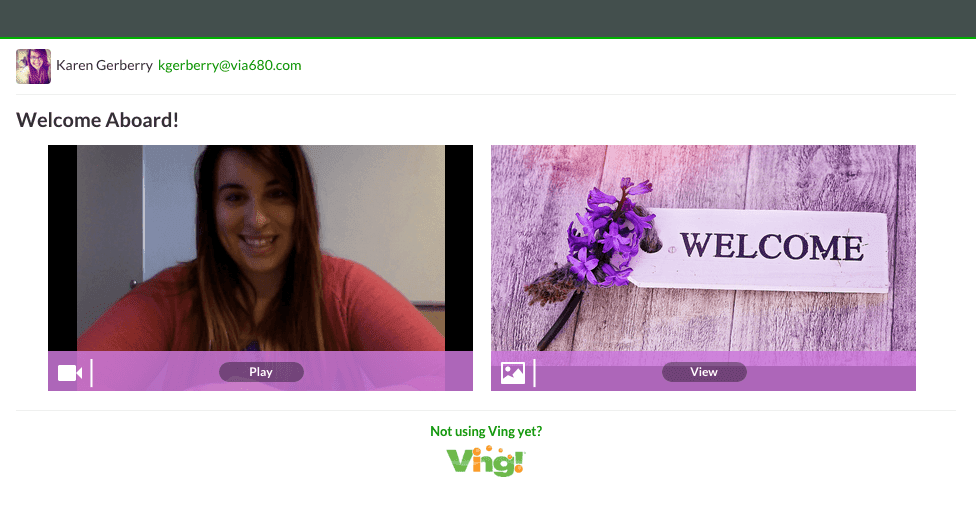 Do you want to talk to someone about how you can get started using Ving today, click here.