Greater accessibility, better fit. HR technology is making a big difference for employees in and out of the workplace.
"Mobile tools put the right data in the right hands at the right time on the right device for the right task."
~ Live from SHRM 2013: The Top 10 Technology Trends HR Needs to Know
A lengthy statement but true. The way we use technology changes with the evolution of that technology.
The more "mobile" our lives become, stresses Live from SHRM 2013, the more important it is to mobilize HR technology in the workplace to "streamline processes and meet the needs of our employees when they're not in the office."
And meeting employees' needs outside of the office is an ever-growing concern.
Making Healthcare Virtual
For example, what do employers do when faced with the pressure of preventative employee healthcare coupled with an anticipated shortage of physicians?
They turn to telehealth, as reported by Mark McGraw in The Doctor is 'On' (Human Resource Executive). When Truth Hardware's medical telephone hotline failed to spark much employee interest a few years ago, the company turned to Online Care Anywhere.
Online Care Anywhere is a telehealth service that lets employees talk directly to doctors via two-way video and/or secure text chat. Mona Edgar, Truth's benefits administrator, says that this program is more convenient (than the hotline), and employees can visit with an actual doctor if they choose to.
Why are companies taking such a serious look at telehealth options?
"From physician consultations via phone and personalized online health portals," writes McGraw, "to mobile applications that allow employees to message physicians and on-site computer kiosks where groups of employees can undergo online health screenings, telehealth can help employers keep their workers on the job instead of at the doctor's office."
Download FREE Digital Checklist
Offering Greater Accessibility and a Better Fit
Easier access to good care that was a better fit with employees' schedules is the main reason Wynn Las Vegas offered telehealth to their staff, continues McGraw.
With a shortage of doctors in Nevada, it's hard to get an appointment and virtually impossible to find one out- side of work hours, says Carrie Messina, Wynn's vice president of human resources.
"We were looking for ways to make it easier for our people to get the care they need," said Messina, "and telehealth made sense for that."
Increased productivity, easier access, better scheduling for your employees. Just a few of the business benefits of mobilized data.
Recognizing the Wave of the Future
HR has come a long way from its humble beginnings in the 1920s when employees were just "factors of production." The importance of HR to a company's success strategy will only continue to grow as departments embrace and implement technological solutions.
When they met to discuss the biggest, most current HR technology trends, the 2013 SHRM Technology and HR Management Expertise Panel made one fact clear:
HR needs to "stay ahead of the technological curve and embrace new technologies as a means to improve the company's bottom line – both financially and culturally."
If you are an HR professional who is attending (or has attended) the annual Human Resource Executive's HR Technology Conference, you already understand how vital effective tech tools are to your company's bottom line.
With so many big changes in employee healthcare, benefits, retirement plans, and more, HR pros can't afford NOT to embrace technologies that will help retain and reward their best talent.
Want to check out the most recent HR technology trends that are transforming human resources? Download our free eBook "Six HR Technology Trends: Improve Your Business Performance with Technology."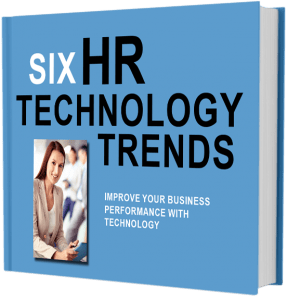 Download FREE eBook