With the recent shift of OSHA's innovative policies towards "Leading Indicators," employees are encouraged to learn and utilize leading indicators to improve health and safety outcomes at the workplace. Currently, most of the large businesses are already familiar with the advantages of infusing leading indicators into practices. However, there is a possibility many SME's may be unaware of its benefits. Thus, OSHA has given safety concerns a new approach via leading indicators to improve innovation in safety.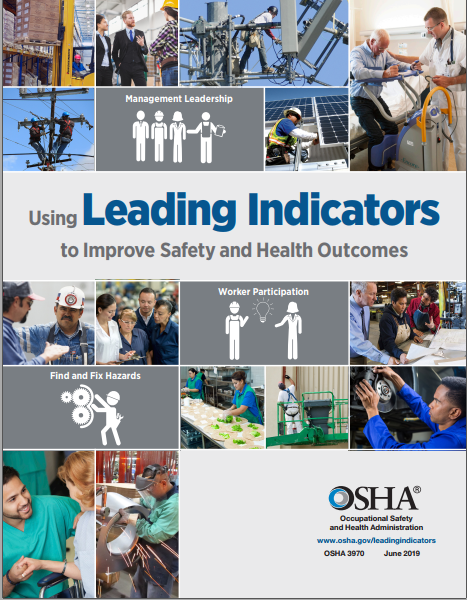 Leading Indicators
Leading indicators are preventive, proactive, and predictive measures that provide information regarding the effectiveness of an organization's health and safety performances. They identify, analyze, and measure events leading up to illnesses, injuries, and other possible incidents. They divulge potential issues in an organization's health and safety procedures. Whereas lagging indicators measure the frequency and occurrence of events that happened in the past. They may include illnesses, fatalities, and the rate or number of injuries.
Lagging indicators can alert you for an area of health and safety policy where there is an expected existence of the hazard. On the other hand, leading indicators enable you to take preventive measures before a risk turns into an incident and create a safety culture by picking new safety technology for your workplace. Thus, lagging indicators are used to measure the effectiveness of a procedure; while, effective policy can utilize leading indicators to drive changes.
Benefits of Leading Indicators
Leading indicators play a significant role in preventing injuries, illnesses, and fatalities of workers. They strengthen the health and safety outcomes of the workplace. Reputed companies including Nestle, Nova Groups, Unilever, Academist Help, Abbott and Ikea are some of the best example of OSHA's guideline implementations. Also, employees who are encouraged to use leading indicators have substantial advantages. Utilizing the tool by taking purposeful actions can help employees present their commitment to maintaining a responsible work premise and valuing co-workers.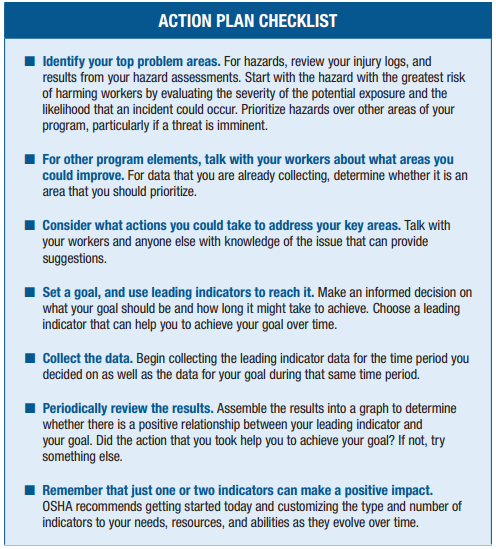 Moreover, it improves the overall social benefits and organizational performances. They can be utilized to find and fix hazards timely and can save the bottom line of business. Financial benefits can include roadblocks in production cost, repair costs, hospitalization, worker's compensation costs, legal and regulatory costs, and other incident associated costs.
Using Leading Indicators
Honestly, there is no "one size fits for all" strategy to use leading indicators. Employees dealing with new programs may use indicators that focus on initiative procedures, while employees dealing with more mature programs can get close to achieving higher performance targets. Some may find it tough, while some may find it helpful to track and carry out goals based upon the size of business. OSHA recommends using the below three criteria to include in your policies to help you out in achieving specific health and safety outcomes.
Leading Indicators Based on Collected Data
Leading Indicators for Controlling an Identified Hazard
Leading Indicators to Improve Elements of Health & Safety Program
If you are getting starting with any of the leading indicators, you can utilize your own collection of data. It can elaborate a perfect way of improving the elements of your health and safety program. Efficiently collected data can address potential hazards and help to design procedures and policies for better outcomes. OSHA's safety document elaborated steps can be followed to achieve the desired goals.
Leading indicators help you to improve health and safety performance in work areas where hazards are identified for possibilities. OSHA has published the guideline booklet with a referred section for "Hazard identification and assessment" to get an overview of how to assess and identify workplace incidents. Also, to decide which one to start with and which one to consider with the severity of potential outcomes. The reason is; if a hazard is not addressed in time, the possibility of an event to occur is increased with the number of workers that may be exposed to the incident.
Effective health and safety programs can incorporate the entire core elements needed to practice with organizations. It includes:
worker participation
leadership management
hazard identification
assessment
prevention and control
training
education
program evaluation
improvement
All the above-mentioned attributes must be achieved when you are coordinating with contractors & host employees. Moreover, you need to communicate with staff agencies and get the helpful documents to educate people. Assistance of an expert assignment writing service is useful for getting easy, concise, and analytical approaches that will convert the indicator's understanding better.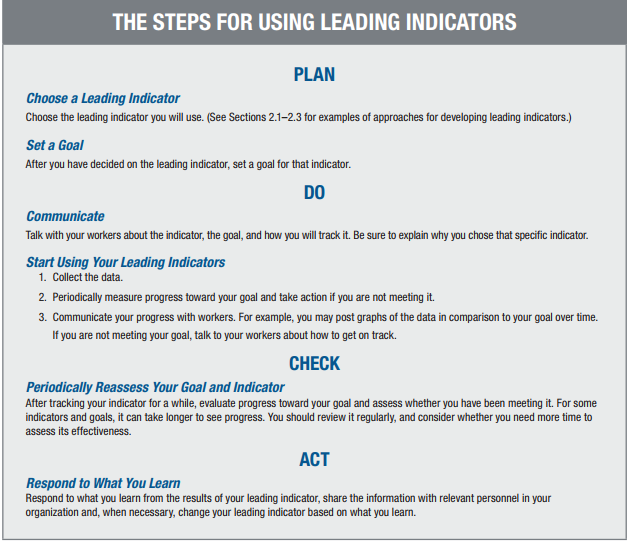 Leading indicators can help you to improve the above core elements of a health and safety program. However, applying policies directly to lagging indicators, including injury rates, may be tough; the experiences show better policy implementation to improve safety. Management has to use leading indicators to improve elements of practices. However, they can be applied to the health and safety program regardless of what the recommended outlines include.
Bottom Line
Undoubtedly, leading indicators are a powerful tool to make measurable and long-lasting improvements in a workplace's health and safety outcomes. Regardless of an existing health and safety policy, implementing leading indicators are still valuable. Therefore, implementing them can be beneficial for workers as well as the organization to achieve the best performances with a reduced number of incidences.
Author bio
Melissa Calvert is qualified in sociology. She has written about different human rights issues, and her work has been published on many reputable websites. Currently, Melissa is working as a Social Science Expert at Crowd Writer, authentic assignment services UK provider.
Facts and image source: https://www.osha.gov/