Ever wonder how to improve communication skills with the new employees in your office? Here are 3 easy ways to break the ice and ease them into their new work environment!
We've all been the newbie in the office.
It is your job as a manager, to connect your new employees with your company culture, veteran employees, company policies, and much more. The better onboarding communication skills you have in place the easier it will be for new employees to get in the full swing of their new position.
Three simple ways to improve communication skills with the employees in your office...
Establish Better Onboarding

Engage Your Workforce

Gather Feedback
Establish Better Onboarding
Each year 25% of the working world goes through some kind of job/position move. Training new employees is costly. You need a better-established onboarding program that is filled with exceptional communication skills.
Your onboarding is sure to include some sort of training. During training your new hires will learn about what their job entails, who they can reach out to with questions, what tools and systems they will be using, and, of course, compliance paperwork and/or videos.
How can you make sure that they are engaged and fully understanding the information you are providing to them? VING!
With Ving, your communication skills will soar. Ving allows you to partner video, audio, documents, and even survey sets (these are great for follow up questions, your new employees are sure to have them!). Your new employees will love how easy it is to consume all their training information and you can check on their progress from your office!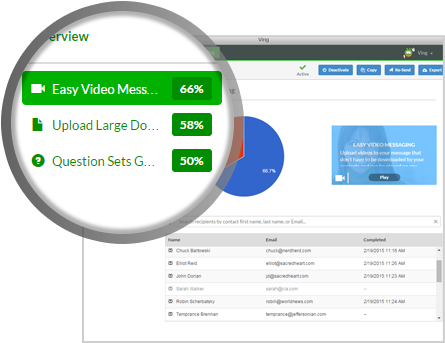 Check out our blog, 3 Ways to Organize Your Training Template For Employees to read more about how to incorporate your training communication skills into your onboarding process.
Engage Your Workforce
Being involved and engaged with your office as a whole is another time to showcase your communication skills — especially with your new hires. According to Officevibe, 88% of employees do not have a passion for their work and 79% believe they have a significant retention and engagement problem.
These alarming employee engagement statistics are just another reason you need to get your new employees engaged. A fantastic way to encourage engagement is through a mentor/mentee program.
Implementing a mentor/mentee program will not only allow your new employees the ability to connect with someone in your company, it will give them a go to person for when questions arise — and they will.
Here is a list of things your mentor should cover with their new mentee:
The best way to communication with them.

A brief tour of the team members and their job responsibilities.

A quick overview of the software tools they will be using.

Best practices and tips for the office.
Gather Feedback
Now that your new employees are in a groove and have established themselves in the office it is time to get some feedback from them. Here is a list of questions that you can ask your new hires — their answers will help you shape your onboarding process!
How would you rate your first day?

How would you rate training?

How would you rate your mentor?

Were you equipped for your new position?

What other comments would you like to add?

Your comments and feedback will help us to shape the onboarding process for new employees, Thank you.
When adding these communication skills to increase your employee engagement you will see a huge turnaround in retention in your office. Check out Ving, for an affordable way to distribute information, training, and much more to your employees! You'll never wonder how engaged your employees are — now you can know!