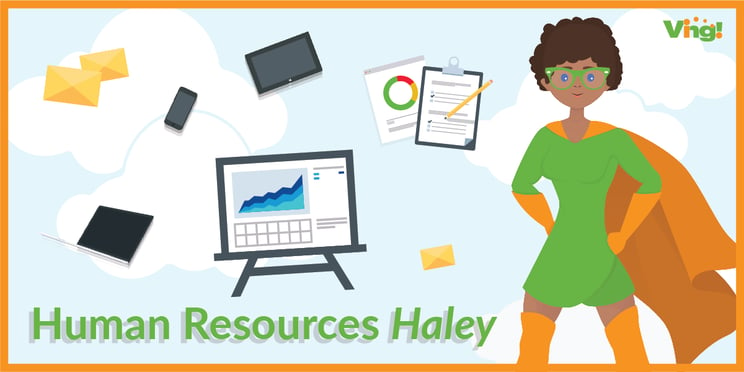 Introducing Superhero Haley!
"Why are our best employees leaving?"
"How engaged is our workforce?
"How can we improve our on-boarding and training programs?"
"Do our employees understand corporate procedures and policies?"
If these questions sound familiar to you, chances are you're tethered to a manual, paper-based human resource (HR) process or relying on email to communicate important information to your workforce. If so, you might be spending unnecessary hours searching for and chasing down information that is outdated or making critical decisions about employees based solely on hindsight and intuition.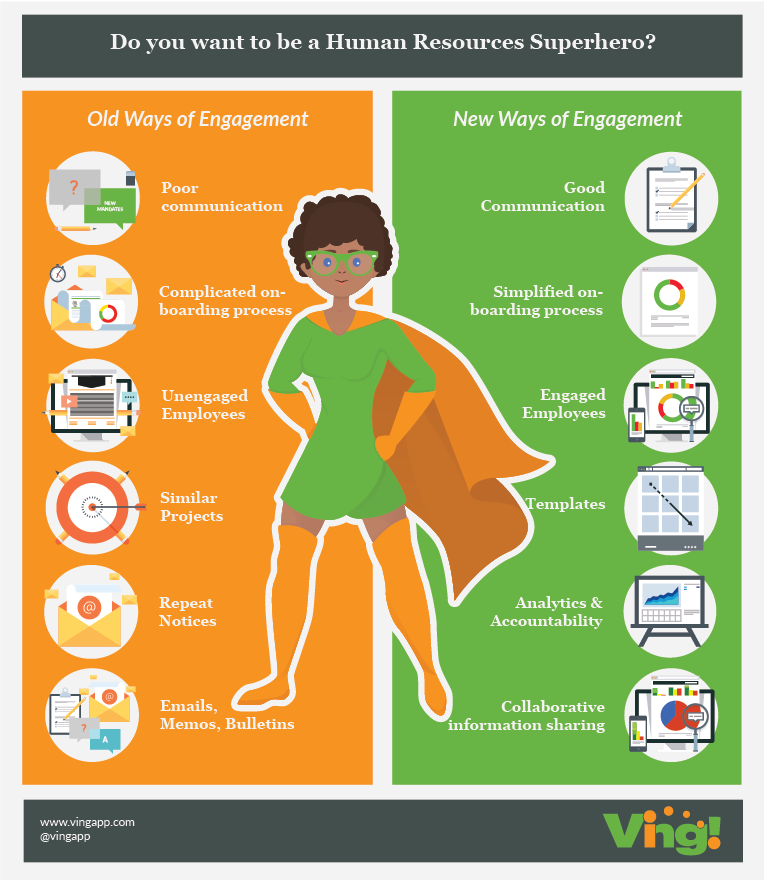 Now is the time to adopt the power of real-time analytics to make better, data-driven business decisions through Ving's solutions. With Ving, you can transform from a paper-chasing, email pushing executive to an HR Super Hero. We deliver real-time analytics in a user-friendly dashboard so that you can instantly understand employee engagement levels, efficiently create, distribute and track employee acknowledgement of policies and procedures, and track and ensure HR compliance.
Ving's integrated platform combines file sharing, audio, video, surveys, images, and text engagement tracking capabilities. Additionally, Ving's "digital content packets" allow you to share important, actionable content through an individual's chosen platform of communications, like email, messaging, and social network.
With Ving, you can address your most pressing HR issues, such as:
Having problems attracting and retaining your top performers?

Hiring and training new talent is far more costly to the business than retaining your best employees, and employees who are disengaged and do not feel valued are at risk of leaving their jobs. That means you need to know now if they are being compensated fairly, if they are they being reviewed in a timely manner. It's vital for HR to understand employee engagement so that they can attract and retain top performers and resolve issues before they become a problem.

Are on-boarding and training programs really working?

HR managers are responsible for ensuring that new hires are appropriately integrated into the corporate IT and other systems, that they understand their job requirements and benefits options, and that they are adequately trained on computers and other equipment necessary to perform their jobs. Unfortunately, information is usually sent to new employees via email or mail, which means that human resource executives have no way of knowing how much an employee has read or truly understands.
Does the C-Suite want to know if everyone is in compliance with corporate policies and procedures?

When employees don't understand or don't comply with corporate policies and procedures – some of which are legal requirements set by state and federal governments – a company can be vulnerable to legal action. And HR managers are on the hook to make sure that not only do employees have access to corporate policies and procedures, but also that they have taken the time to read and understand them, that they understand the consequences when these policies are not followed, and that they have easy access to any information that becomes updated or changed.
With Ving, you too can unlock the power of real-time analytics to boost employee engagement, productivity and compliance. Ving's analytics dashboard tracks how your employees interact with a particular piece of content, and information can be shared in multiple visual formats, reused and tracked over time. And now, because you can gain actionable insights as to how effective a particular approach is, you can identify the best type of medium and content to use.
With Ving, you can optimize information sharing engagement and turn yourself into an HR Super Hero. For more information, visit: www.vingapp.com.